TOUCH WOOD MEMORIAL RINGS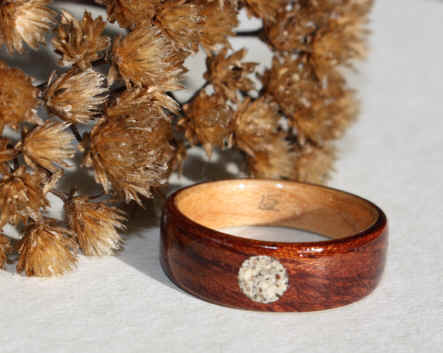 Rings and Pins of Remembrance, Love & Celebration
Touch Wood Memorial Rings are wearable works of art reminiscent of the Victorian era when mourning jewelry was so popular.
Your memorial ring is individually and meticulously hand crafted by David Finch; the pioneer of the bent wood ring.
Rings and other small wearable memorial pieces, inlaid with cremated ashes, can be made in memory of a person or a companion animal.
Your ring is created with deepest respect for the life being honoured.
We don't enclose or hide the ashes of your beloved. The inlay on your ring is a visible, visceral and tactile memento.
We also create pins and pendants with cremated ashes or locks of hair.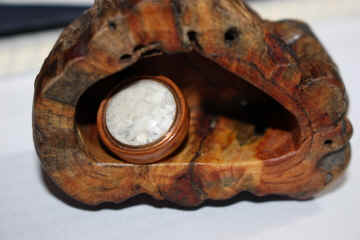 Touch Wood Memorial jewelry is lovingly hand crafted of wood and incorporates a physical reminder of your loved one or a companion animal.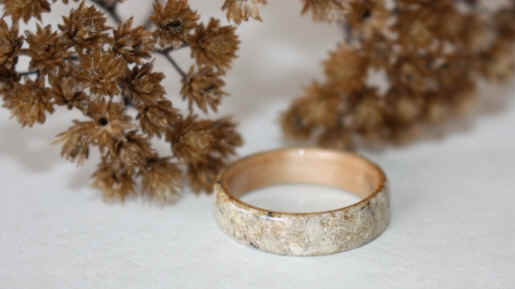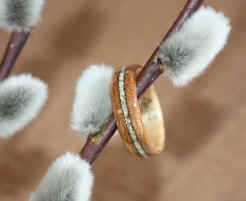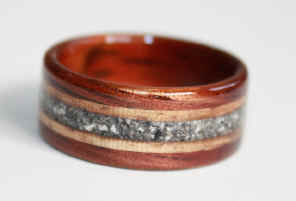 Our process for creating a memorial ring or pin is uniquely personal to the individual or family we are working with. As with our Touch Wood Rings; wood types, colours, design and sizing are your decisions to make. We are here to help and we will communicate with you for as long as necessary to ensure you are happy with your choices.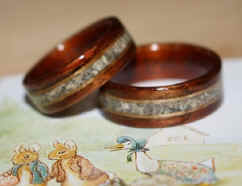 There is no pre-production work - each ring and pin is an individually created work of art. While David works on your piece, we keep the ashes of your loved one in a special keepsake box overlooking our meadow, as a symbolic way to share the view, the coyotes call, the sunrises and the moonlight.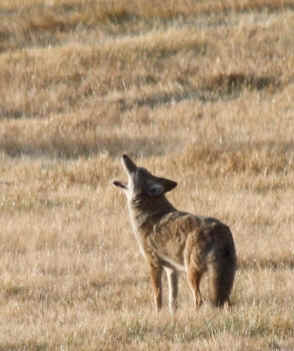 Since rings and pins are so small, very little ash is required in their making. Two tablespoons of ashes is all that is needed to create a ring. Any unused ashes are carefully repackaged and returned with your order, or if you prefer, lovingly scattered among the willows at the edge of the meadow.

There are lots of possibilities for this style of Touch Wood Ring. You might consider having a simple wooden band created from some special piece of wood in memory or celebration of someone you love.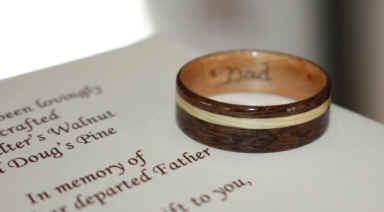 Your memorial ring can be crafted from wood that has a special memory for you . . your grandfather's hammer handle or a bit of wood from your Mom's old wooden spoon or branch wood from a favourite tree. . . It is not necessary to incorporate a center band of ashes.
If you are thinking about adding a center band of something other than ashes, you might consider a few words on a strip of paper from a handwritten letter, a bit of sand from a special beach, even strands of hair can be incorporated as an inset band in our wood rings.
To inquire about a Touch Wood Memorial Ring or Pin, please send us an email. Nicola (that's me) will be happy to answer all your questions and guide you through the process.
Looking forward to talking with you. With warmest regards,
Nicola and David Finch
Find us on Facebook and on our new website at www.memorialrings.ca
Our mailing address: David and Nicola Finch
Box 4744 Williams Lake, BC,
Canada V2G 2V7

Touch Wood Rings at Meadow Ranch
Wearable wood art ~ Memorial Rings
email: nicola@memorialrings.ca